This easy vegan lasagna is the best vegan lasagna you will ever have. Tofu ricotta with spinach, layered with flavorful tomato sauce and cashew cream is mouthwatering, loved by meat-eaters.
FOR THE FULL LIST OF INGREDIENTS, SCROLL TO SEE THE RECIPE CARD AT THE END. BUT BEFORE YOU SCROLL CHECK IMPORTANT INFORMATION THAT IS INCLUDED IN THE BLURB.
This recipe Vegan Lasagna is an updated recipe that I shared back in 2011. I have since simplified it or at least made the instructions clearer and updated some of the photos:
It is one of those dishes that I prepare for special occasions or when I'm in the mood for comfort foods, like my Vegan Mac and Cheese. This recipe is always a big hit when I serve it and I can't ever remember having leftovers. It has stood the test of time.
This delicious vegan gluten-free lasagna is guaranteed not to stay in the serving dish very long. It can be prepared ahead of time and freezes well for your big event so you can have more time for other preparations.
You can use any kind of hummus you have on hand for the vegan ricotta. I used brown rice lasagna but you can use slices of zucchini or roasted eggplant slices instead.
For other casserole dishes, check out my Easy Black Bean Enchilada and my Gluten-Free Cauliflower Casserole dishes.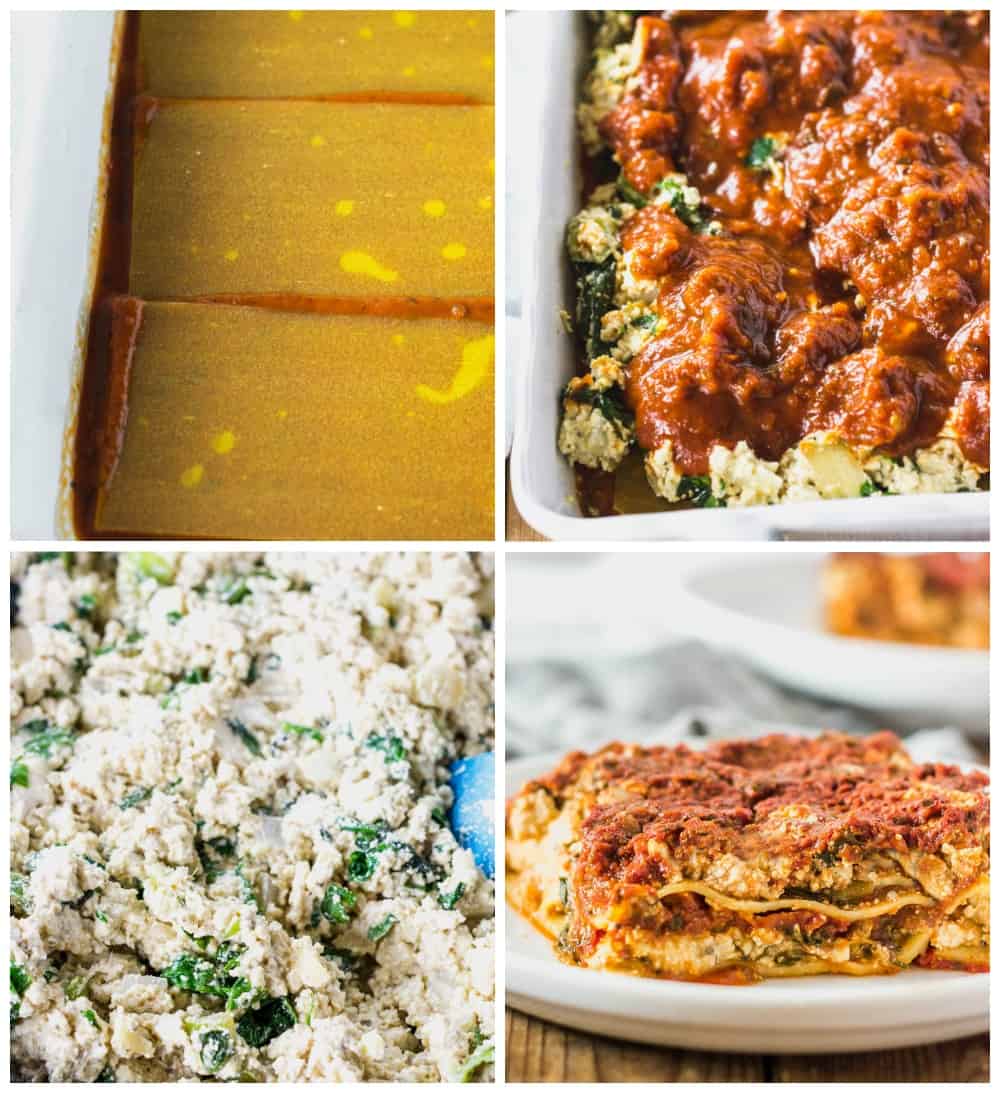 How To Make Vegan Gluten-Free Lasagna
For the lasagna, I sauteed onion, garlic, bell peppers, and zucchini, and added pasta sauce. Then I prepared tofu ricotta by mashing tofu and adding Italian seasoning, then preparing a creamy cashew sauce mixed into the tofu.
I used a combination of garlic hummus and cashew cream with excellent results (see recipe notes for instructions on how to make cashew cream).
I layer the pasta sauce, lasagna sheets (no need to precook your noodles), tofu ricotta, pasta sauce, and cashew cream then repeat, sometimes I end by topping off the lasagna with vegan shredded cheese
This recipe is amazing and will be a huge hit when you serve it!
I have used several gluten-free vegan lasagna noodles with success, here is a list of gluten-free lasagna sheets.
We love to see the recipes that you make from this Vegan Rice Recipe collection on Instagram, Facebook & Twitter!
Get discounted copies of my cookbook Here
Also please leave a star rating ;-)
Need some encouragement on your Healthier Steps journey?
Join our Facebook groups, sharing lots of delicious vegan and gluten-free recipes, health tips, etc., from our members. Please join us and invite your friends Gluten-Free and Vegan For Beginners and Vegan Recipes
Energy:

34 kcal / 142 kJ

Fat:

16 g

Protein:

16 g

Carbs:

46 g
Cook Time
Preparation:

30 min

Cooking:

55 min

Ready in:

1 h 35 min
Ingredients
Lasagna
Pasta Sauce
Tofu Ricotta
Cashew Cream
Instructions
To Prepare Pasta Sauce
Preheat oven 375 degrees. In a skillet over medium heat oil, add onion, garlic, red bell pepper, a zucchini and cook until tender. Add pasta sauce, stir and set aside.
To Prepare Tofu Ricotta
Mash tofu with your hand or a fork and stir in spinach, Italian seasonings and set aside.

using a food processor or blender, process cashew, water, lemon juice, yeast flakes, onion powder, garlic powder, salt until creamy.

Mix 1/2 cup cashew cream and hummus with mashed tofu and set aside
To Assemble Lasagna
Place a thin layer of pasta sauce in the bottom of a casserole dish. Cover sauce with uncooked noodles about 4 leaving space for noodles to expand. then sauce.

Cover noodles with tofu ricotta mixture, topped with some pasta sauce followed by cashew cream. Next cover with noodles, then tofu ricotta mixture, pasta sauce, and remaining cashew cream.

Bake for 45 minutes Covered with parchment paper topped with foil or baking sheet and bake for 45 minutes or until noodles are cooked.
Notes