It has been a while since I have experimented with new recipes. I have been extremely busy for the past 2 months, doing a lot of jobs that have brought out my skills and passion all summer long.
From catering for business events to being the chef for Vacation Bible School (cooking 3 meals per day for a week). The following week, I taught cooking classes to 75 adults and for the last 2 weeks, I was the nurse at a summer camp for 73 young people. It has been a whirlwind of various events but I thoroughly enjoyed every second.
Needless to say for the last 2 weeks I rarely cooked, I worked all day and I was on call during the night. I met hundreds of wonderful people and made lots of new friends. I'm so grateful for the opportunity I had to serve. I'm slowing getting back into blogging and creating new recipes like this Teriyaki Soy Curls with Pineapple and Bell Pepper.
What is Soycurls?
Soy curls is a meat alternative made from whole organic soybeans, they have been cooked and dehydrated. it is not refined or isolated protein instead it contains the entire soybean. Soy curls are best stored in the freezer, when ready to prepare, they are rehydrated and it has the texture of shredded meat.
My hubby recently ordered a box of Soy Curls from Butler Foods, Butler Foods are the only makers of soy curls. I decided to experiment with a new recipe and I came up with this Teriyaki Soycurls with Pineapple and Sweet Peppers recipe. The result was finger licking good, my hubby said to me that this recipe was a keeper. I serve it with brown rice and everyone enjoyed it.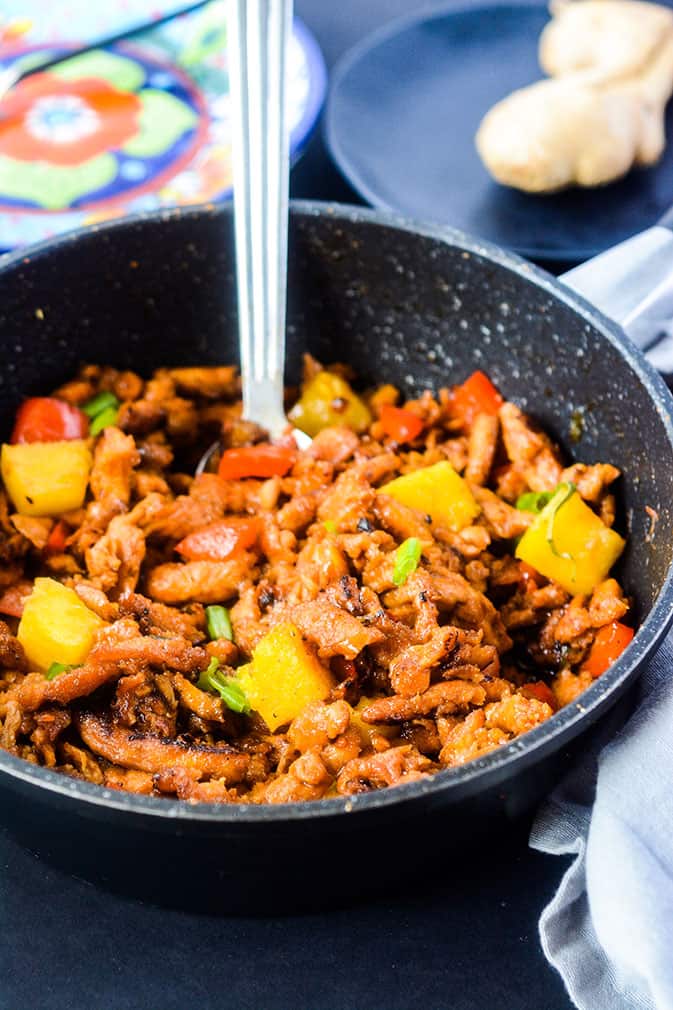 How To Make Teriyaki Soycurls With Pineapple and Bell Pepper
To make the Teriyaki Soy Curls with Pineapple and Bell Pepper, I soaked the soy curls in warm water for 10 minutes, after I drain the water and add seasonings. I bake until brown (at this step you can lightly fry in a skillet).
As it's baking, I prepare the sauce by sauteing the garlic, ginger, and bell pepper until tender, I added pineapple juice, coconut sugar, and Bragg's liquid aminos and cook on medium. I then thicken the sauce with a mixture of cornstarch and water. Finally, I toss the soy curls and pineapple chunks in the sauce and garnish with chopped spring onions.
Other Butler Soy Curls Recipes
If you enjoyed this Teriyaki Soy Curls recipe and would love to see more, join me on Youtube, Instagram, Facebook & Twitter!
Get discounted copies of my cookbook here.
Fortunately, because of the Ads on our website, readers and subscribers of Healthier Steps are sponsoring many underprivileged families.
Also please leave a star rating ;-)
Love You,
Michelle
Energy:

304 kcal / 1271 kJ

Fat:

11 g

Protein:

12 g

Carbs:

42 g
Cook Time
Preparation:

20 min

Cooking:

30 min

Ready in:

1 h
Instructions
Preheat oven 400 degrees F. If frying, continue to the next step but skip step 5.

To prepare the soy curls, soak in warm water for 10 minutes. Drain soy curls using a colander and press to drain excess.

Transfer soy curls to a bowl and season with garlic powder, onion powder, paprika and salt.

If frying, heat oil on medium-high and cook seasoned soy curls until brown. Continue until all have been fried. Set aside.

If baking, spread soy curls on a prepared baking sheet and bake for 25 minutes or until brown. Set aside.

Meanwhile, prepare the Teriyaki sauce, heat oil in a saucepan on medium-high. add garlic, ginger and cook until fragrant, about 30 seconds. Add bell pepper and cook until tender, about 2 minutes.

Add pineapple juice. Bragg's liquid aminos, sugar and bring to boil. Mix cornstarch and water in a small bowl and add to the saucepan stirring to thicken.

Stir prepared soy curls into sauce to fully coat, add pineapple chunks and cayenne pepper. Garnish with spring onions, delicious served with brown rice.
Notes
The calories and nutritional data are estimates based on a third-party calculator.  Nutritional information will differ because of the different brands used, portion sizes, etc.