Mango Tomato Salsa recipe is so delicious, it is quick and easy to prepare. Juicy ripe mangoes with cherry tomatoes, red bell pepper make this colorful dish so attractive.Tastes great with chips or my Jackfruit Carnitas Tacos.
This is one of the easiest dishes that can be prepared in a jiffy with an amazing taste. I had 2 cases of mangoes that I purchased locally. They cost me only 25 cents each and they were so sweet yet firm. We could eat only so much, so I had to use them up quickly before they became overripe.
I decided to make this Mango Tomato Salsa recipe with a slight variation from my Mango Avocado Salsa, now I don't know which one I prefer because they are both so delicious
Make sure to use the freshest ingredients for this recipe, so that the flavors can come alive with each bite. I used firm yet ripe mangoes, fresh crunchy red bell peppers, and fresh super sweet tomatoes. I can't describe how delicious this salsa taste. This recipe is a must try!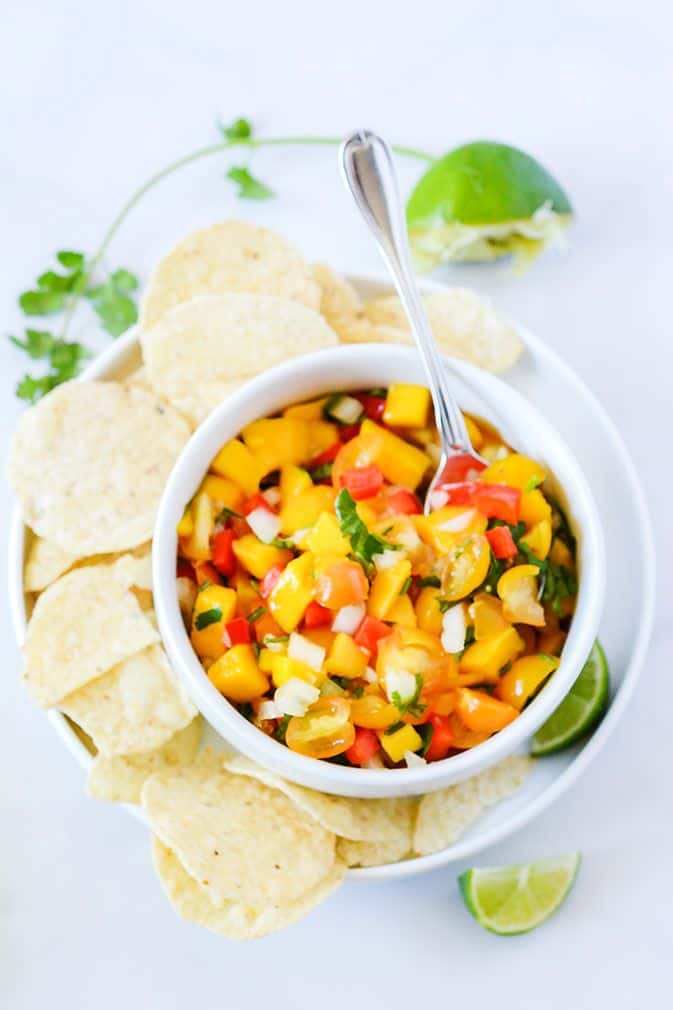 There are so many ways you can serve this salsa. It's so delicious on top of Baked Tofu pan sauteed tofu with Bragg's liquid aminos/soy sauce and garlic. I bet they would also be delicious served with my Chickpea Taco.
Mangoes are not only delicious but they are packed with lots of antioxidants, minerals, and vitamins. They come in many varieties too. Check out my article on the 10 Amazing Benefits of Mangoes.
I am so excited to start a new facebook group, sharing lots of delicious vegan recipes, health tips etc. from our members, please join us at Vegan Recipes With Love! If you tried this recipe, please comment below and let us know how you like it. Also, please follow us on Instagram!
Cook Time
Preparation:

15 min

Ready in:

15 min
Instructions
Stir mango, tomatoes, onion, red bell pepper, garlic, cilantro leaves in a bowl. Add lime juice and season with salt.

Let sit for 5-10 minutes for flavors to blend. Store leftovers in refrigerator.
Notes