FOR THE FULL LIST OF INGREDIENTS, SCROLL TO SEE THE RECIPE CARD AT THE END. BUT BEFORE YOU SCROLL CHECK IMPORTANT INFORMATION THAT IS INCLUDED IN THE BLURB.
WHAT IS VEGAN CHICKEN NUGGETS?
These Kid-friendly Tofu Nuggets are a winner in my home, my children love them with barbecue sauce or ketchup. They are definitely a great crowd pleaser and a good way to introduce tofu to those who are unfamiliar.
They remind me of chicken nuggets or popcorn chicken but they are way healthier and delicious without the guilt. You can substitute the brown rice flour with cornstarch. If you prefer to fry them that is okay, it is up to you, they taste great, the choice is yours!
I have been making these Baked Tofu Nuggets for over 10 years, and we never get tired of them. They remind me of my Vegan Chicken Nuggets, Cauliflower Nuggets, and Baked Onion Rings, they just never get old!
How To Make Tofu Chicken Nuggets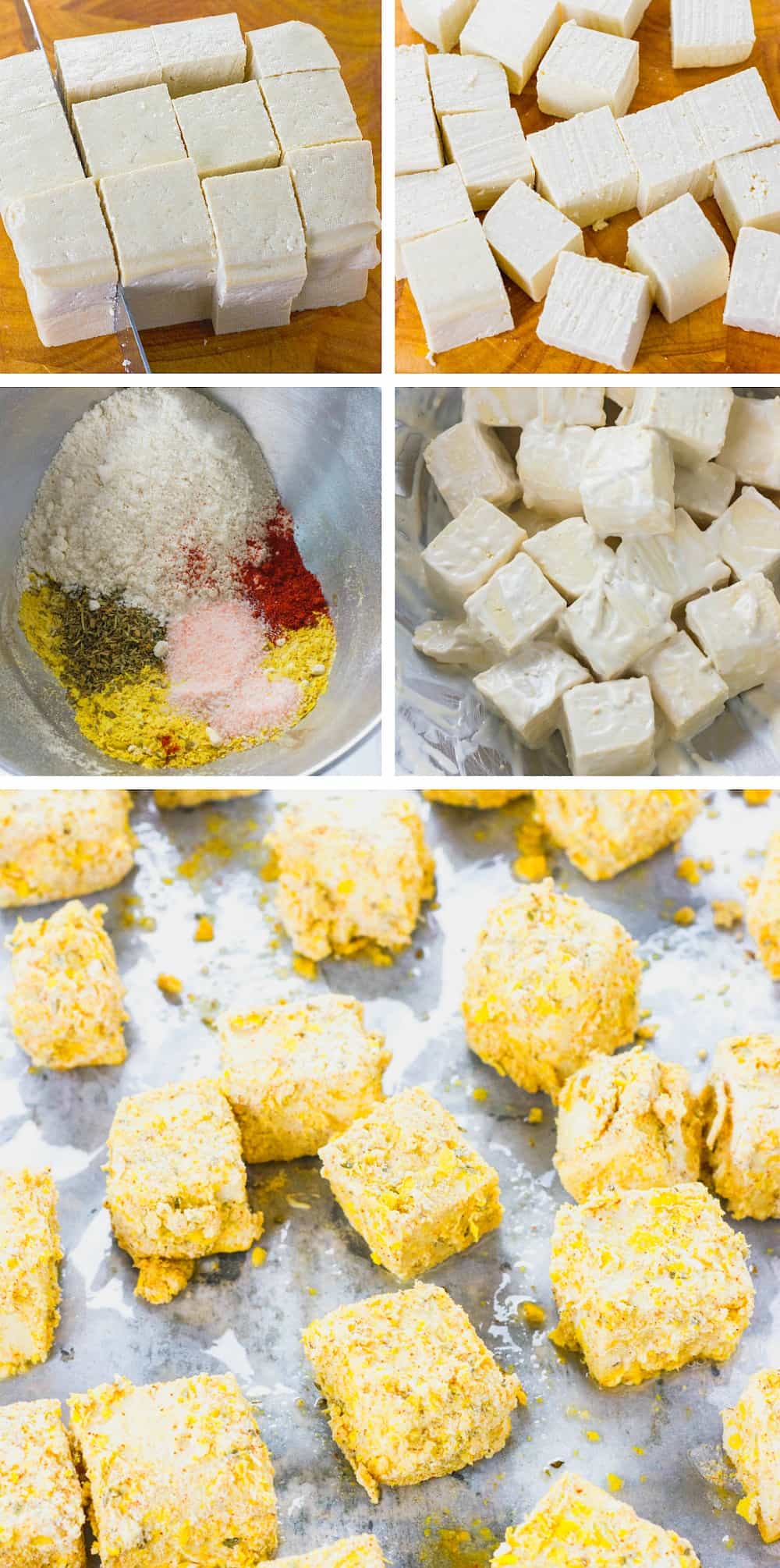 How To Make Vegan Tofu Nuggets?
Vegan chicken nuggets are so easy to prepare and the taste is indulgent, that even the most critical guest will be blown away by the results. First of all, I only buy super-firm tofu because I hate to press the water out firm or x-firm tofu.
They are more expensive but when I'm cooking, for the most part, I prefer quick and easy recipes, that's just how I am. I now purchase my Super-Firm Tofu from Trader Joe's. Once you try super-firm tofu, you will never go back, the texture is amazing!
If you cannot get super-firm tofu near you to make these Baked Tofu Nuggets, then you can use a tofu press (purchase online) to squeeze out excess water or you can wrap tofu in paper towel and place on a plate.
Next to put another plate on top of the tofu block and add a heavy object on top, such as heavy books on top of the plate. The time it takes to drain the excess water depends on the weight on top of the plate. So it could take half an hour or a couple of hours.
Cut tofu into cubes, prepare the breading and set aside. Toss tofu with Bragg's liquid Aminos followed by vegan mayonnaise and finally with the breading. Lay in a single layer on the prepared baking sheet and bake until crisp.
Tips For Making Tofu Nuggets
Choose extra-firm or superfirm tofu.
Press excess water from the tofu
Marinate tofu in the Bragg's Liquid Aminos for at least 20 minutes.
Energy:

203 kcal / 849 kJ

Fat:

8 g

Protein:

20 g

Carbs:

14 g
Cook Time
Preparation:

10 min

Cooking:

30 min

Ready in:

45 min
Instructions
If using firm or x-firm tofu, press tofu between paper towels to remove excess water. Then cut into strips or cubes and marinate with Bragg's liquid aminos for 20 minutes. (If you are using the vegan mayo, mix it with the Bragg's liquid aminos and coat it with the tofu. Then you will proceed to coat with dry ingredients as follows.)

In another bowl combine the remaining ingredients well. Coat tofu with dry herb mix and place on a greased baking sheet. You may spray with oil at this point.

Bake at 400 degrees for approximately 30 minutes turning halfway. You may also cook on a lightly oiled frying pan until golden and crispy.
Notes
Tossing the tofu with vegan mayo allows the breading to stick much better.